Enter Into His REST gathering at C-HOP from 5-8 August 2021 as a preparation breakthrough time in God's presence, according to God's Vision at C-HOPFAN that; 'Father's House' is a meeting place of His Rest and Restoration.
Starts Thurs 5 August 6pm Acts 2:42 Dinner – please bring a plate of food to share
Friday & Saturday 6-7 August both start 10am -Scriptures, Creative Arts process – in God's Presence- Please bring your own lunch – Evening Soaking time in God's Presence
Sunday Afternoon session 8 August 2021, from 2.00 -4.30/5.00pm – meeting will be including Zoom with Annie Cathcart –please contact us on email – c-hop.update@gmail.com
Together with Jacqueline Bedson and the elders at C-HOP, we are calling intercessors and lovers of Jesus who feel lead, to come to gather before the Lord to enter into His Rest 5-8 August 2021, to listen to His voice, to pray and worship, dance and sing and enjoy creativity and His Recreation Life, with banners, art, and many other creative expressions, to fulfil Isaiah 30:15, "In returning and rest you shall be saved; In quietness and confidence shall be your strength":
C-HOP Vision & Purposes – A Meeting Place with God and likeminded people – Entering into God's Rest & Restoration.
You are welcome to come and stay at C-HOP from 5-8 August or to come in the day as you are able, with a Donation box for contributions. Please bring your own lunch. Dinner is $23.00 per person, please let us know if you would like it and which day.
We will start Thursday evening with an Acts 2:42 Dinner 6pm on 5th August – please bring a plate of food to share. Each morning, Friday, Saturday and Sunday we will start at 10.00am and have further gatherings during the day with soaking in the evenings. We will finish on Sunday at 3.30pm
To Register, please email Hilary Moroney at c-hop.update@gmail.com & if needed call 02 62821117
At a Later date, we will be hosting the postponed 'His Resting Place' gathering lead by Colin & Tina Maree Brown: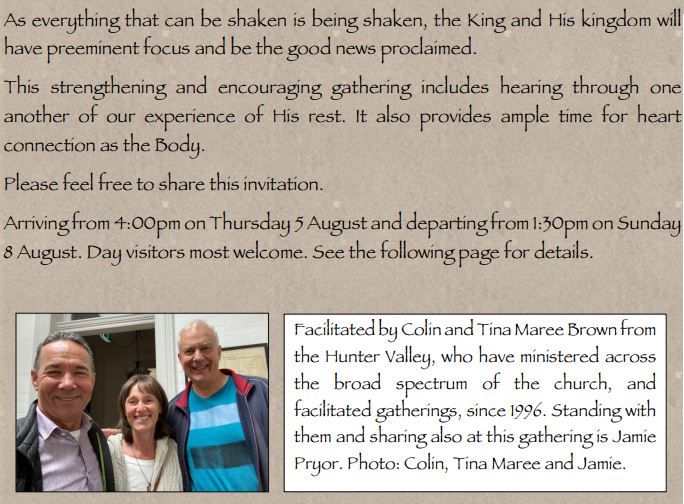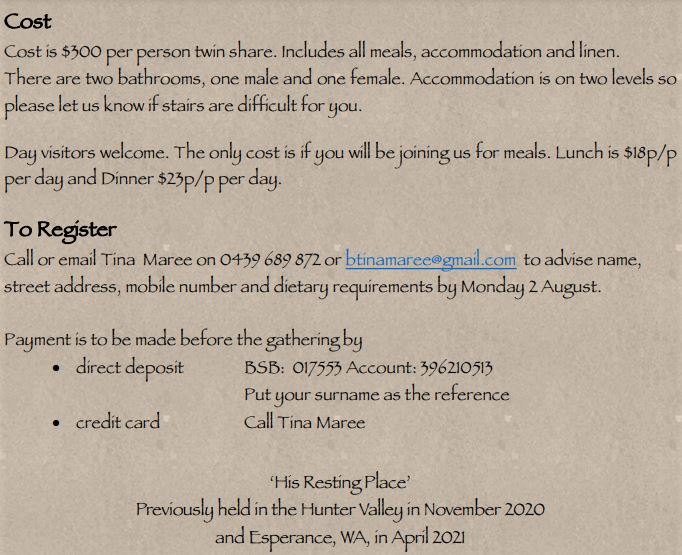 C-HOP Vision & Purposes – A Meeting Place with God and Likeminded people – Entering into God's Rest & Restoration.
WELCOME to this C-HOPFAN VISION & MISSION Discovery Page .

Find out about the C-HOP Vision :
To Encounter the Presence of God and Establish His Kingdom Purposes in the Heart of the Nation and beyond.

Find out about our Mission and Purposes:
To undertake and encourage prayer and worship of the beauty of Jesus, the one true God and proclaiming His Word, His presence and His glorious return in line with the Bible's teaching.
To develop New Covenant Communities with the rhythm of a life of prayer, hospitality, service, rest and restoration as led by the Holy Spirit and outworking of the Word of God.
To encourage and equip the saints to build night and day Houses of Prayer to host the presence of God, by training in the Word, Prayer, Healing and Kingdom ministry.
To outwork revelation received in prayer and from God's Word through sharing the gospel, mission, pastoral care and acts of service in the Canberra Community, our nation and beyond, to bring the Kingdom of God on earth as in heaven.

Here are the Goals through which we will achieve the Vision and Mission :
The LORD has set up Canberra House of Prayer for All Nations (C-HOPFAN) in our nation's Capital to:-
be Watchmen for the nation. God's people in Canberra hosting the presence of God to encounter His heart
be a strategic meeting place with God and His people – Training, Hospitality and Retreats
stand in the gap, in the prayer room and in the Parliament for His Truth, Justice & Father's heart
call upon the LORD to visit us in power, to save souls in their millions – the church to be ready and
to establish His Kingdom and His Righteousness in Australia for His glory in every area of Government
call in a mighty harvest of souls for JESUS, to be discipled in life and in the power of praying the Word of God
Internships being established to build 24/7 Prayer – the Ark of His Presence, – an Acts 2:42 Community
call forth God's redemptive end time destiny for Australia as part of the Great South Lands of the Holy Spirit, and to stand with Israel – to pray for the next General Election in God's perfect timing.
YOU can be part of it!
How To Donate to support the implementation of God's Vision and Mission at C-HOPFAN : Cash, Cheque or Direct Deposit Prayer Worx Trust MBCM,
St George Bank: BSB 112-908, Acct No: 446 631 958
May God bless you as you invest in this powerful and ongoing ministry for the salvation and transformation of all Australia and the nations.
Where will the money be used?
All money donated will go towards C-HOP being released to fulfil God's call & vision of sustained worship and prayer for the nation, and the nations, as well as releasing internship program
Prophetic Call To Prayer – Pentecost 2021
Join praying with leaders from across Australia in a strategic stand during this time of nations shaking leading up to Pentecost. During our prayer times we will be focusing on the spheres of God's Kingdom, for God's will to be done and His Kingdom of Power being made manifest: –
for Australia to operate under Christ's Righteous Rule and Reign in every area of government for His plum-line of justice and Truth to be established across all areas of society.
calling for God's mercy and conviction unto repentance to be released in Australia for a mighty harvest of Souls and true Discipleship.
to call forth Australia's God ordained destiny to become part of the Great South Lands of the Holy Spirit and a land of God's true Peace and Salvation 1 Tim 2:1-6 in these troubled times.
God's shakings, mighty power and outstretched arm have become so evident over these past 12 months. God has answered the cry of His people. There has been a MIGHTY SHIFT with God's Hand at work across Australia bringing many to unprecedented prayer, unprecedented witness for Jesus and outstanding miracles as the Gospel has been spreading.
And … this Prayer House in our nation's capital has been interceding for AUSTRALIA and for the Nations.
God is answering those prayers through the increasing influence and impact of people and ministries like Youth for Christ, Australia For Jesus, and the City-wide Bible Reading Marathon, John's Gospel Distribution and many others.
Therefore I exhort first of all that supplications, prayers, intercessions, and giving of thanks be made for all men, 2 for kings and all who are in authority, that we may lead a quiet and peaceable life in all godliness and reverence. 3 For this is good and acceptable in the sight of God our Saviour, 4 who desires all men to be saved and to come to the knowledge of the truth. 5 For there is one God and one Mediator between God and men, the Man Christ Jesus, 6 who gave Himself a ransom for all, to be testified in due time, 1 Timothy 2:1-6
Let us awaken to the battle that is raging..…
PRAY & SUPPORT GOD'S VISION FOR AUSTRALIA TO BE PART OF THE GREAT SOUTH LANDS OF THE HOLY SPIRIT
And I looked, and arose and said to the nobles, to the leaders, and to the rest of the people, "Do not be afraid of them. Remember the Lord, great and awesome, and fight for your brethren, your sons, your daughters, your wives, and your houses."
Nehemiah 4:14.
Spiritual Director C-HOPFAN – Dr Hilary Moroney

Dr Hilary Moroney invites you to consider and seek God about becoming part of building His Kingdom purposes through C-HOPFAN in Australia's nation's Capital city of Canberra. God's plan is to build night and day Prayer with Interns, to minister to God and Host His presence in Father's House, with an open heaven here near the Parliamentary triangle and in the midst of the nations Embassies. This will be done through Prayer, Worship and the Proclamation of His Word, with a particular calling to Pray for our Governments and Parliamentarians, and the Persecuted Church.
As we pray we will be Proclaiming God's Promises for souls to be Born Again by the Spirit of God and Discipled in God's Word – God's next generation leaders called to learn to stand in Christ's spiritual authority in warfare, following Jesus. Through C-HOPFAN there will be prayer and proclamation regarding Israel, Jerusalem and the Jewish people returning to His covenant land. Hilary is also called to pray into crisis issues as well as to go into the Federal Parliament, and pray for Parliaments of nations.

As the battle of ideas and Truth rages, many people wonder, "why do people believe the things they do, and where do cultural ideas come from?". At C-HOPFAN we explore God's covenants and promises of the Bible to grow in the Knowledge of who God is through relationship. We Pray from the Bible and Proclaim the truth of God's Word in the authority of the Name of the Lord Jesus Christ, We desire to see the Lord Jesus Christ lifted up and exalted, and given honour as Creator, Saviour and Redeemer of the world. We pray from and actively seek to live the effective proclamation of the Gospel by expressing who God is, while providing understanding and credible answers that affirm the reliability of the Bible from the beginning, that are able to be experienced and lived.